Graphic T-shirts made a massive return in 2017, are still here in 2018, and I foretell that it will soon become a wardrobe staple. Printed t-shirts are simple, cute and versatile. They are easy to pair with jeans or shorts, which is an excellent look for daytime or casual wear. You can dress up an illustrated t-shirt, or you can dress it down. You can tuck in a painted t-shirt in or tie it in a knot. There are many more fashionable ways to wear graphic t-shirts nowadays. Everyone has that favorite character, person or phrase that they probably wouldn't mind possessing on a shirt. Below are 10 graphic T-shirts both iconic and chic that you can add to your wardrobe.
The Rolling Stone "Lick" T-shirt
This shirt is the representative of the Rolling Stones and copies Mick Jagger's on-stage look. This t-shirt looks fabulous paired with nearly any gear.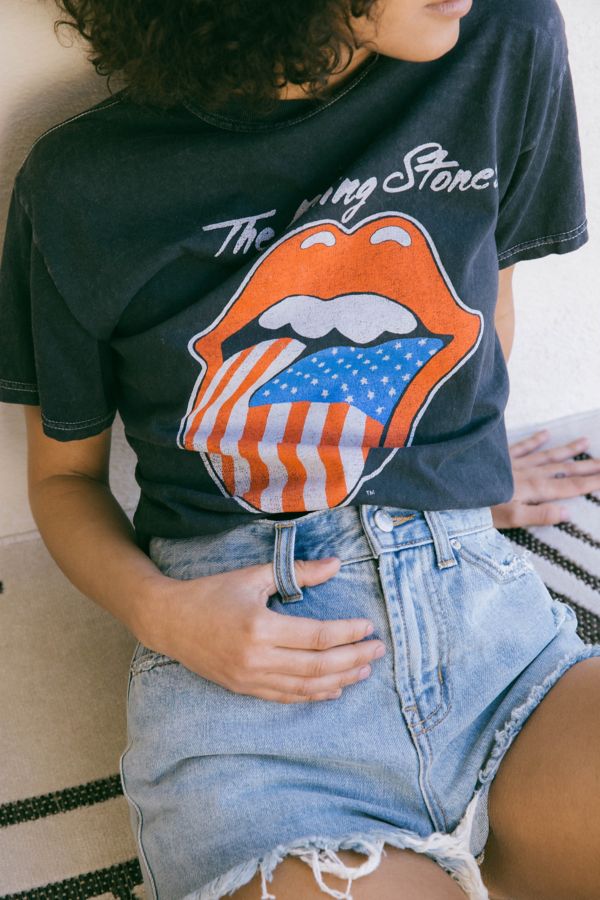 $34.00 UO
Hot Topic
Bright Neon T-shirts
Pink, orange, yellow, and green are the 80's T-shirts that will never go out of style.  These T-shirts will look excellent with jeans and sneakers, jeans and sandals and under a moto jacket. Think about adding some colors to your wardrobe with neon t-shirts.
Bob Marley T-shirt
Bob Marley T-Shirt is one of the highest selling T-shirts on the market, and we can see why. Match this classic shirt with leather leggings and sock booties.
$18.71 American eagle
Nirvana Smiley Face T-shirt
The band Nirvana took the traditional "Have a nice day" smiley face from bumper stickers and made it their own with a rock-themed twist. 
Pink  $12.00
Black $22.30
Mickey Mouse T-shirt
Mickey Mouse is one of the worlds most recognizable figures. The first t-shirt was conceived in the 40 's, and it is still loved by adults and children today.
$14.50 Uniqlo
Just Do It T-shirt by Nike
Just do it was a phrase by a convicted murderer who was executed by a firing squad. 
Macy's $25.00
D.A.R.E T-shirt
Dare to resist drugs and violence T-shirts was given freely to students took when they took a drug and violence course. The red and black colored font enhances the versatility of the shirt with your outfits. Wear this shirt under a grey plaid blazer with blue jeans and strappy sandals for a night at the bar. 
$22.90 Hot Topic
I Heart T-Shirt
I heart t-shirt was designed in 1977 to encourage tourism. Wear this shirt under your moto jacket or blazer when you go visit New York, and you'll see how chic you'll feel.
YOLO T-shirt
The rapper Jake created Yolo  (you only live once) shirts, and they have been worn worldwide since 2012. There are so many colors to choose from based on your closet and preference.
Camouflage T-shirt
Camouflage shirts aren't just for the military. T-shirts with camouflage are iconic. I have seen this shirt worn in remarkably chic ways such as with stripe pants, leopard print shoes, and many different colors bottoms.
$14.99 American Eagle