For many people, fall fashion is the easiest to wear. For some, knowing what to wear, and therefore what to buy, can be exceedingly difficult. Whether you fall in the former or latter, knowing some of the current trending pieces can help you build your far wardrobe.
Basic
New but not so new are basic clothing styles. In 2018 we see more basic white t-shirts, more modest outfits that create a look of luxe and simplicity. If you want to look expensive on a budget, basic clothing is the way to go. Additionally, they are the essential items of your closet so get them anyway.
Coat Shopbop/Anorak

TJ Maxx

/Tee Eddie Bauer
Animal Print
Zebra and leopard prints have returned for winter 2018, as seen on the catwalks of Victoria Beckham, Calvin Klein, Givenchy, Balenciaga, and Tom Ford. I think leopard print shoes are an essential item for every person's closet. It can take a very plain outfit to the next level, and it is also considered a nude color, meaning you can wear it with many things. My favorite way of wearing leopard shoes is with a lovely floral dress or denim shirt and black pants. If you really want to go deep into this trend, leopard dresses, tops, and sweaters are very cute if styled correctly.
Loafers Nordstrom/ Scarf Nordstrom/ Blouse Nordstrom Rack
Knit Sweaters
Sweaters are always in style but this fall we see colorful, bulky, and logo sweater. If you want to stick to your basics, you can purchase a cute trendy sweater to wear with your favorite basic clothing throughout the winter.
Sweater Macy's
Checks
We have seen a lot of plaids this year, and this style is going into fall. My favorite is the plaid blazer. The fantastic thing about check clothing is that you do not have to break the bank to purchase it, as it is such a classic. Head down to your local thrift store and you should find several plaid blazers.
Blazer Charlotte Russe
Red
Red has always been one of my favorite colors to wear in the fall and this season we have seen it dressed as a monochromatic look or combined with pink. Whether you like this look or you would prefer to rock a pair of red boots, earrings, or handbags, this style is one that is sure to last.
Red Boots

DSW
Tweed
We saw tweed from Marc Jacobs, Louis Vuitton, and Miu Miu this fall. Tweed is another style of clothing that you do not have to break the bank for as you can find it at any thrift store.
Blazer Farfetch
Faux Fur
We will see lots of faux furs this fall. If you can rock faux fur like a true fashionista, this trend is for you.
Faux Fur Vest Nordstrom Rack
Cowboy
Sabel Marant began her show with Dolly Parton's Jolene. Her models wore prairie dresses and cowboy boots. Calvin Klein displayed my favorite outfits which are cowboy boots with traditional western shirts and plaid dresses.
Cowboy boots Century 21
Leather
Another trend this fall is leather skirts, trousers, and trench coats. A leather jacket, leather skirt, and leather pants are great essentials for your closet as you can quickly exchange your basic garments for leather ones.
Leather pants

TJMaxx

/Moto Jacket NYC/Skirt Nordstrom
Rust
Last but certainly not least of my favorite trends this fall is rust. I have spent the entire summer looking for rust-colored clothing for fall. It is a stunning, elegant color that you can pair with anything.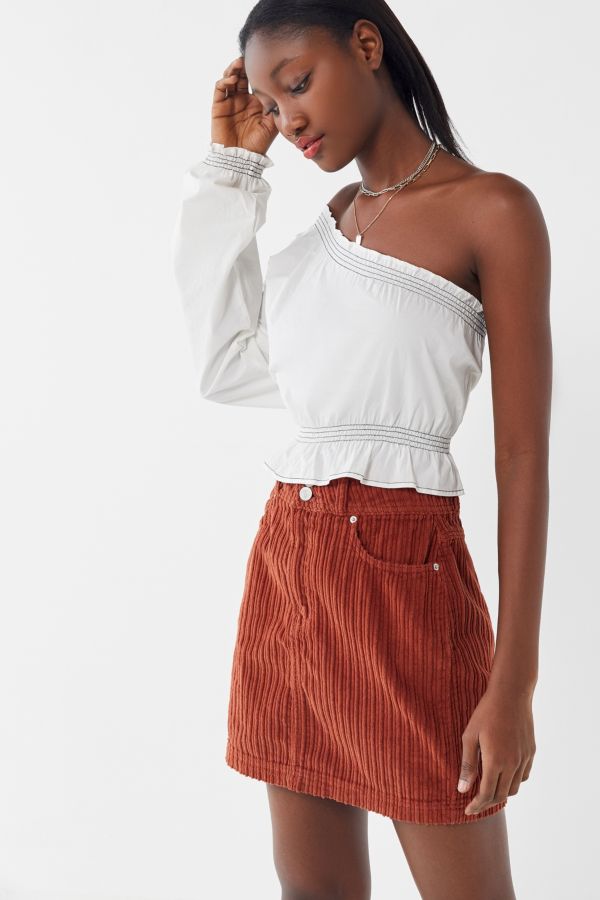 Skirt Urban Outfitters
I love some of these trends such as the animal print, basic and rust but others I have to pass. Which fall 2018 style is your most and least favorite style?